A lot of the reason I tossed out this list to a few people was to get a handful of movies from each person that helps me branch out a little more. Even though some of the films might be films I wouldn't even think to watch for various reasons.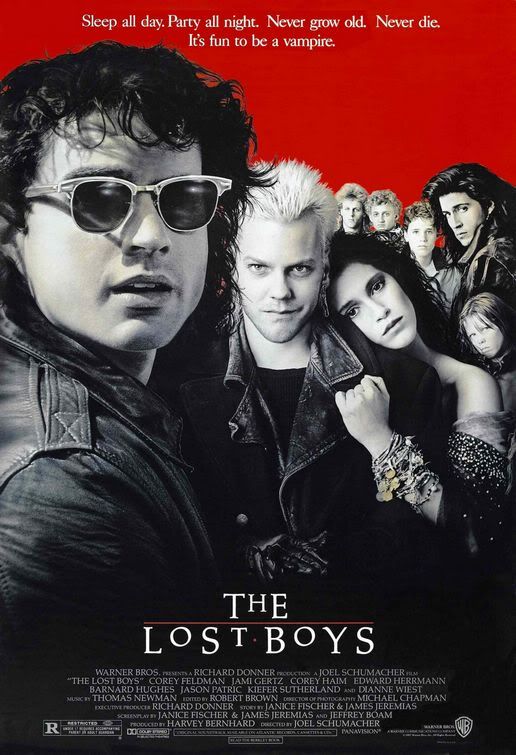 Lost Boys
was one of those films. I have seen the cover of the movie and scenes from the film multiple times, but I have never wanted to watch it. But, I was told to and so I did - and it wasn't all that bad. In fact, I found myself enjoying it.
The Emerson family, Lucy (Dianne Wiest) and her sons Michael (Jason Patric) and Sam (Corey Haim), move to Santa Carla, California after her divorce. She moves into Lucy's father's (Barnard Hughes) house.
As both Lucy and Michael head out on the town looking for jobs, Sam walks into a comic store where Edgar (Corey Feldman) and Alan (Jamison Newlander) Frog both work. They show Sam some new comics to read - and explain it will help him in his new town.
Michael, meanwhile, locks eyes with a girl named Star (Jami Gertz) who is part of a gang and in a relationship with David (Kiefer Sutherland). Despite lusting after his girlfriend, David takes a liking to Michael and initiates him into their group by drinking some sort of liquid.
The next day, Michael wakes up and has a hankering for human blood - and attacks his brother. Not knowing what is going on he begins to realize that what he drank the night before was blood and he is turning into a vampire.
Using his new comic-book knowledge Sam tells Michael that since he has never killed anyone he is only a half vampire - and if they kill the head vampire everything will be reversed. This would also allow Star and a younger child, Laddie, to be returned to human as well because they have also not killed anyone.
I actually really enjoyed this film. Some things bothered me - mainly the soundtrack - especially that one that constantly seems to play. It is so slow and so '80s.
I liked Patric in this film, but I just couldn't help thinking Rob Lowe would have been better. And how can you go wrong with the Coreys in the '80s? Also, great seeing Keanu's buddy Alex Winter - where has he been?
Grade: