So, my Hanks-O-Thon hit a bit of a snag when this movie popped up. I love watching Christmas films, but even I couldn't fathom watching a Christmas movie before Halloween. So, there it sat for a good couple of months.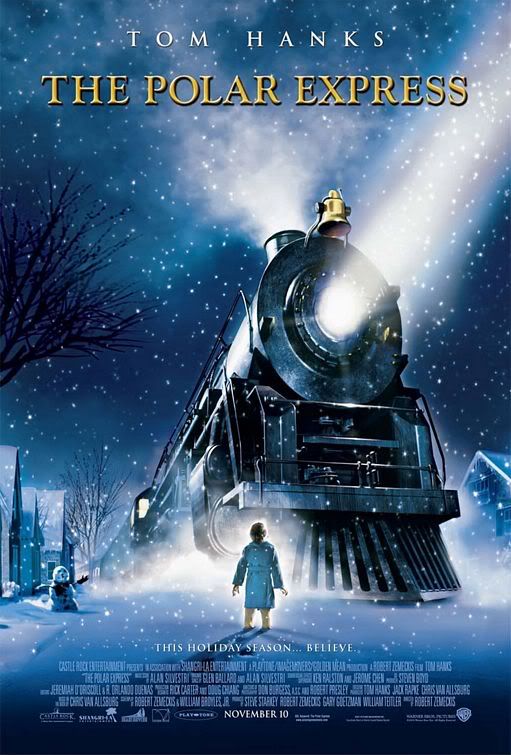 Well, it is still probably too early, but today I decided to toss in
Polar Express.
The movie is based on the children's book of the same name by Chris Van Allsburg. Which is interesting because the book itself is actually very short. But, they were able turn the short book into a 100 minute film - and it pretty much worked.
Tom Hanks plays, well, he plays pretty much everyone. In fact, I just discovered that he actually played the young child in the movie - whose name is actually never said, but is called Hero Boy. This was a surprise to me, because in all of the other voices (Santa Claus, Father, Conductor and the Hobo) you can actually hear Hanks' voice.
Anyway, Hero Boy is getting to that age where he is just not sure that Santa Claus is real anymore and the magic of Christmas may have slowly started to fade away. Well, Christmas Eve night a train pulls up in front of his house and offers to take him to the North Pole. At first he hesitates, but curiosity gets the best of him and he decides to jump on board.
The ride to the North Pole is pretty wondrous, full of singing, dancing and hot chocolate. But, as Hero Girl (Nona Gaye) forgets her ticket and Hero Boy tries to return it - he drops it. And the adventure begins as he tries to get her ticket and return it to her. Also where he meets the mysterious Hobo on top of the train.
As he gets to the North Pole with the rest of the kids, he joins Hero Girl and Billy (Peter Scolari) in getting stuck inside the elves' workshop - and eventually getting trapped inside the bag of presents.
But, as Santa presents himself - it is Hero Boy who is selected to receive the first present. At first he was unable to hear the jingle of the bells, but as he begins to believe again he is able to hear the marvelous noise.
Not a bad rewrite/extension of an outstanding children's book. To extend the source material to full-length feature was a great accomplishment.
My only knock on the film is how it looks. I just do not like the look of this animation - and to know how far we have come just makes it look even worse. Which is too bad because the film itself is actually pretty good - and excellent for a Christmas movie.
Grade: