It's rare a Tom Hanks film will come out and sneak past me. Here I understand it a little more, but I can honestly say I had never heard of this film until I started looking up his work.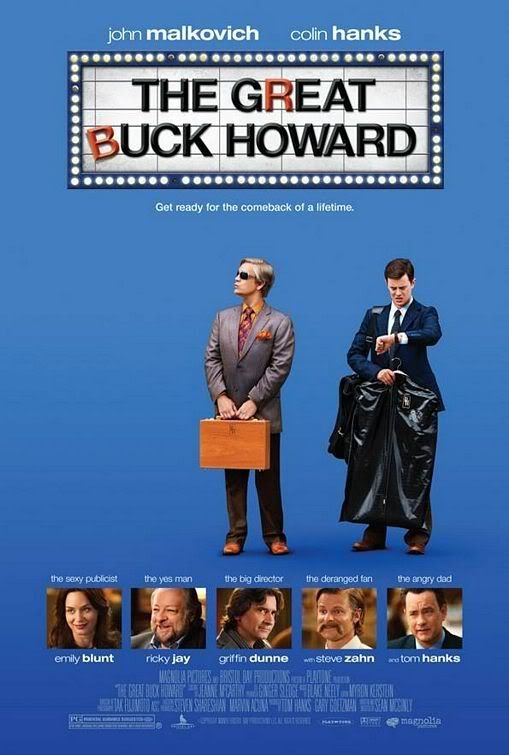 The Great Buck Howard
is much like
That Thing You Do
where Hanks' production company PlayTone put out the movie, but Hanks himself is not the star - instead he plays a smaller part.
Here, he plays an even smaller role than the role of Mr. White in
That Thing You Do
. However, Colin Hanks, Hanks' son, plays a much larger role. In
That Thing You Do
he is only seen escorting Liv Tyler into the Showcase.
Colin Hanks stars in
The Great Buck Howard
as Troy Gable. Gable is a law school student desperately in need of a change - so he drops out of school to become a writer. But, in order to continue paying his rent and all of his bills he answers an add in the newspaper for a road manager.
The job is for "The Great" Buck Howard (John Malkovich), a once popular mentalist who over the years has slowly faded from popularity - but not in his mind. He still believes he is amazing and loves travelling to cities to showcase what he can do.
Colin Hanks takes on the roll of departing Alan Berkman (Adam Scott) as Howard's road manager. He gets things ready for Howard on the road and makes sure everything is perfect for the show.
Meanwhile, Howard is trying to retain his popularity - and Valerine Brennan (Emily Blunt) a publicist is brought in to take on this difficult task - and also happens to start falling for Gable.
Tom Hanks plays the role of Colin Hanks' father, Mr. Gable. His role is very small and actually only has a pair of scenes - both with Colin. But his presence is felt.
Colin Hanks is a pretty talented actor himself - no where near his father yet, but he can continue to climb. The star of the film, though, is of course Malkovich. So over the top as Howard and really fun to watch the ups and downs of the role - and all of his idiosyncrasies.
The film itself is based loosely on The Amazing Kreskin - and was pretty fun to watch, but not the greatest of films. Pretty decent, but not amazing.
Grade: