This Top 10 list could technically be a Top 100 list. But, I did a quick run through of songs and the first 10 that popped into my head I put down. Sure, there are probably others that are out there, but these were fresh in my mind.
My only criteria, and hopefully I didn't miss any, was that the song not be written specifically for a movie. So, 'Footloose', 'Eye of the Tiger', 'My Heart Will Go On', 'Lose Yourself', and about a million others could not be used for this list.
A movie that can use a song the right way can actually make that song its own. Some films have done that with a multitude of songs. But, I have selected 10 songs that when I hear them - anywhere - I immediately think of a certain movie. As I said above, there are probably more, but this is the list for now. If you have any - drop them in the comments. Would love to hear them.
10) The Shins - New Slang (Garden State)
As a huge
Scrubs
fan, I was obviously interested in checking out Zach Braff's films
Garden State
. Braff has been a large fan of The Shins, and they were also featured in several
Scrubs
episodes. This one song, from what music of theirs I have heard, is my favorite and every time I hear it I immediately think of this movie.
9) Jamiroquai - Canned Heat (Napoleon Dynamite)
Just a crazy scene to top off a crazy film. When I first saw
Napoleon Dynamite
I didn't know what to think. Where was this film coming from? It was so over the top crazy. I didn't even know if I enjoyed it the first time I saw it. But, on repeat viewings it gets better and better. And, the dance scene with this song is downright hysterical.
8) Righteous Brothers - Unchained Melody (Ghost)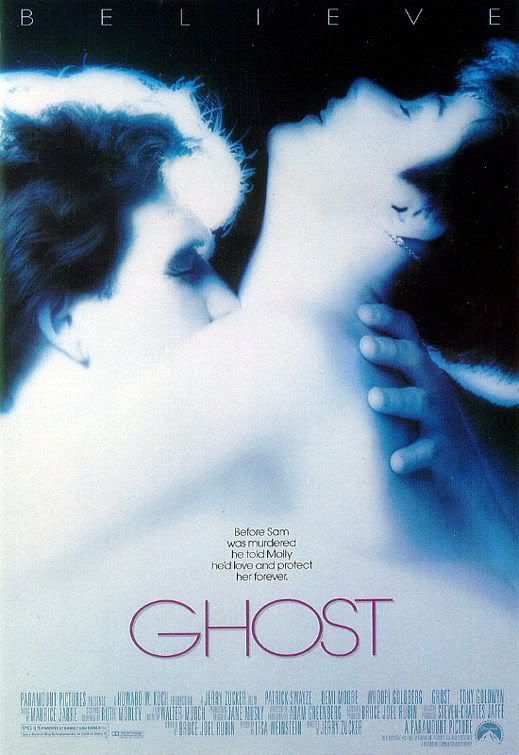 I have not seen
Ghost
in a really long time. I remember it being an okay movie when I did see it though. The scene that sticks with most people, though, is the pottery scene where the Righteous Brothers belt out this song. It is so iconic now that it is even being parodied or mentioned - like in the pottery class of
Community
.
7) Elton John - Tiny Dancer (Almost Famous)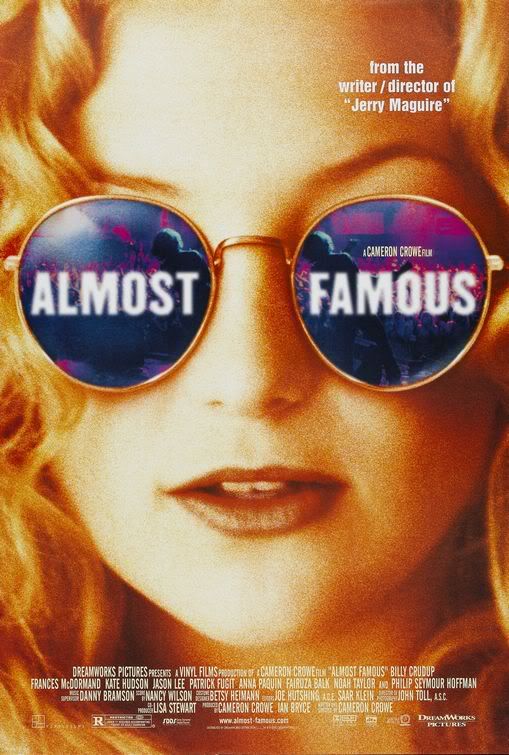 This is a film I had not scene in its entirety until a few years ago. But, the one thing I knew going in was the song Tiny Dancer being sung by the band. After seeing it, though, within the film it stands out even more.
6) Peter Gabriel - In Your Eyes (Say Anything)
Okay, how's this for a song that reminds me of a movie. In Your Eyes reminds me of
Say Anything
and I haven't even seen the movie yet. Crazy, right? Anyway, with some research, I guess this song wasn't even originally chosen for the boombox scene - John Cusack, who is a big Fishbone fan, used a Fishbone song when filming. Not until post production did Peter Gabriel's song get inserted into the film. I think they made the right choice.
5) Chuck Berry - Johnny B Goode (Back to the Future)
It's funny, but this film actually has a few songs that remind me of it. Of course, a few of those are Huey Lewis' power ballads mostly written for the film - and of course who can forget about Mr. Sandman? But, the song that rocks the hardest, so much so that these '50s swinging cats aren't even ready for it, is Johnny B Goode being rocked out by Marty McFly.
4) Stealers Wheel - Stuck in the Middle with You (Reservoir Dogs)
A pretty creepy scene when you think about it. But, Mr. Blonde dances to this song when he holds the guard hostage and decides to do a little torturing all by himself - just for the fun of it, really.
3) Aerosmith - Sweet Emotion (Dazed & Confused)
Pick a song from this film and it pretty much reminds me of it - Bob Dylan's Hurricane comes to mind - but the one that truly sticks out to me is the very first song of the film, Aerosmith's Sweet Emotion. It sets the tone for what is about to happen. And, it begins what would late be the topper of the film - driving into the city to score Aerosmith tickets.
2) Queen - Bohemian Rhapsody (Wayne's World)
Despite probably being one of the lone standout films to come out of an
SNL
sketch,
Wayne's World
will probably always be remembered for the amazing sing-along, head banging that they pulled off to Queen's Bohemian Rhapsody in their car.
1) Simple Minds - Don't You Forget About Me (Breakfast Club)
I thought long and hard, but there was just no getting past it. This song brings me right back to that library and I see the five high schoolers stuck in detention on a Saturday, which is immediately followed by the final still of Judd Nelson's John Bender walking across the football field and raising his arm into the air.