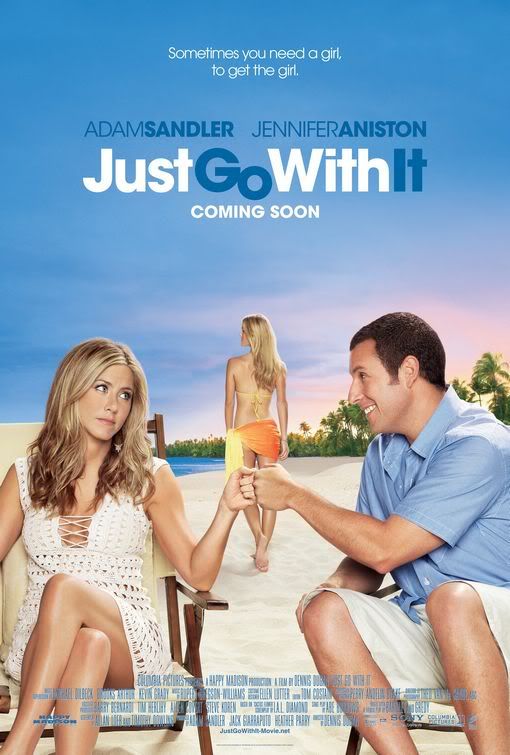 Title:
Just Go With It
.
Starring:
Adam Sandler, Jennifer Aniston, Nicole Kidman, Nick Swardson, Brooklyn Decker, Dave Matthews.
Brief Synopsis:
Danny Maccabee (Sandler) finds out just before his marriage that his fiance doesn't actually love him and is sleeping with someone else. After that he finds out that being recently divorced (or widowed) can score him chicks - so he adopts this as his life-long way of hooking up. Until he Palmer (Decker) and really connects with her - then has to pretend to be in the middle of a divorce with his dental assistant, Katherine Murphy (Aniston).
Opinion:
Maybe it's because she is very pretty, but I really am starting to enjoy Decker (she was great in
The League
as well). This movie wasn't as horrible as I thought it would be - even though I saw everything coming from the start. The addition of Aniston I think helped that out - being mixed with Sandler's normal crew.
Grade:
Title: That's My Boy.
Starring: Adam Sandler, Andy Samberg, Leighton Meester, Vanilla Ice, James Caan, Milo Ventimiglia, Will Forte, Susan Sarandon.
Brief Synopsis: A young Donny manages to seduce his teacher Mary and produces a baby. He becomes pretty famous for this accomplishment and makes a large amount of money - and proceeds to blow it. Years later Donny's (Sandler) son Todd (Samberg) is getting married to Jamie (Meester) and has done rather well for himself. In order to get out of debt Donny tries to reconnect with his son and also with the still imprisoned Mary (Sarandon).
Opinion: First, the best part of this movie is hands down Vanilla Ice. His scenes were very funny. The movie as a whole may not have been too horrible - besides a ton of old-school horrible jokes that they tried to sprinkle in. The absolute worst, though, was Sandler's voice - it was insanely horrendous.
Grade: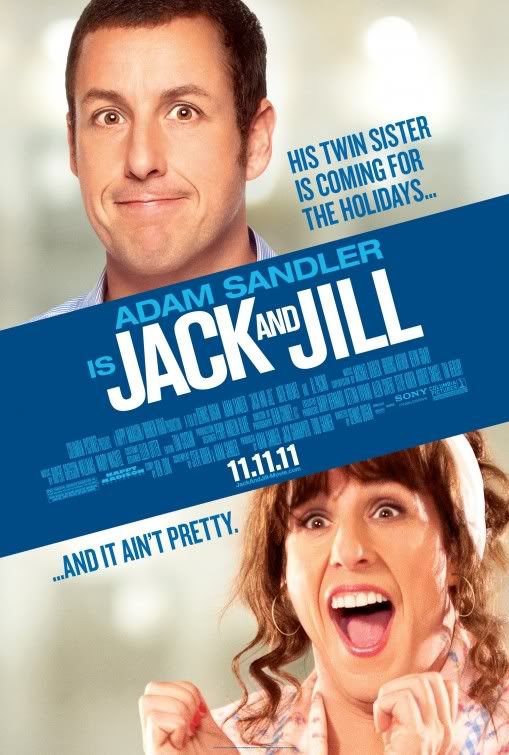 Title: Jack and Jill.
Starring: Adam Sandler, Al Pacino, Katie Holmes, Nick Swardson, Tim Meadows.
Brief Synopsis: Sandler plays both Jack and Jill, who are identical twins. Jack has become a successful advertising executive and family man, while Jill stayed at home to take care of their mother and is now very needy. When Jill comes to visit Jack for their annual Thanksgiving together, she begins to overstay her welcome and Jack wants her gone - that is until Al Pacino, who Jack wants to do a Dunkin Donuts commercial, starts to fall for Jill.
Opinion: Like That's My Boy's Vanilla Ice, Al Pacino stole the show in this film. He played a perfect well over the top version of himself and it was hilarious. But, probably the only good part about this movie. When are people going to start realizing playing a girl version of yourself does not equate to funny.